Welcome
2018 YOC Spring Conference!
Information:
Host: San Diego
Date: God willing, May 11-13, 2018
Speaker: Bro. Ed Hawthorne of Los Angeles
Cost: $55
Location: Lake Hemet
Please go to this link to register for the conference:
2018 YOC Spring Conference Registration
---
If you have a custom amount you need to pay (Ecclesia paying half, you paying part), pay here:
Get your YOC Cookbook!!!!!!!!! We still have some!!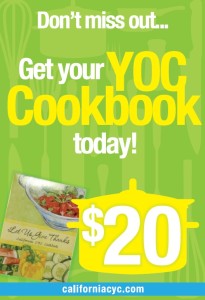 Purpose of the California YOC
The California Christadelphian YOC is for gathering in fellowship with those of like precious faith and out of the world of darkness. The point of going to CYC and CYC events is to learn about the Word of God and to hang out in an environment that is Godly and outside of the world. Our lives should be dedicated to God and should put our full heart and effort in everything that we do. The main goal of going to places like a conference is to have your mind focuses on God, and to hopefully help you to stay on the right path.
What This Website Will Have For You
This website will provide resources to keep you active in the truth. The goal is, that with the resources on this website, you will be able to use them in your life. This website will provide more than the California YOC resources. You will find things like the YOC schedule, useful resources, and links to other Christadelphian events that go on around the world. Another goal is to help you in your Bible study, too.

by Justin Reich